Grow Your Business with Feng Shui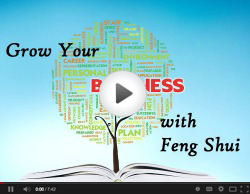 Take Carol Olmstead's popular online video class,
"Grow Your Business with Feng Shui."
This 90-minute interview style class includes tips and advice for everything you need to succeed, from choosing a desk, to lighting, plants, art, and includes a hands-on office transformation.
You'll learn the small Feng Shui adjustments in the Career/Work Area of your home that will have a huge impact on your career or business.
Here's what students are saying about "Grow Your Business with Feng Shui:"
This class is nothing short of a delicious treat for your career. I loved it! Great practical pieces of advice. Well-taught in a fun way. Don't be surprised if you find yourself watching the same video a few times just because it's so inspiring.
--Rushina
This course has something for everyone. It is obvious from watching that Carol is an excellent educator, and she is wonderful at distilling the essence of abstract, complex, or esoteric concepts in a succinct and clear manner. She never preaches what to do, instead she helps people understand why each suggestion will serve them along with the deeper symbolism behind each act.
--Angela K.
Wow! My home office is my next project and I feel like I have a beautiful foundation to move forward now. The visual transformation was very impactful, thank you to all that made that happen, it makes a huge difference to experience what Feng Shui can do! Wonderful, wonderful! Here's to moving or removing 27 things.
--Ashley P.
CLICK HERE TO TAKE THE CLASS!
Here's what you'll get in this self-paced class:
Lecture 1:
Meet your teachers, Feng Shui Experts Carol Olmstead and Nicolette Vajtay. With more than 30 years combined expertise, we'll guide you to business and career success.
Lecture 2:
Learn about the Bagua and the many Feng Shui influences that boost the energy in your business, focusing on the Career/Work sector.
Lecture 3:
Recognize the Feng Shui adjustments that activate the Career/Work sector and assure business and career success.
Lecture 4:
Discover the six powerful Feng Shui tips to create a workplace that will boost your business bottom line.
Lecture 5:
Understand how to arrange your office with Feng Shui principles to add passion, purpose, and power to your business, Part 1.
Lecture 6:
Understand how to arrange your office, Part 2.
Lecture 7:
Watch our hands-on office transformation that turns a home office from "not so good" into "Feng Shui fabulous."
Lecture 8:
Participate in our thank you and gratitude ceremony.
Bonus:
Take quizzes to help continue your learning after you complete the class.
You'll come away from this class with Feng Shui skills you can immediately use to create a workspace that helps your business or career grow, flourish, and succeed.
Get started today!
"Grow Your Business with Feng Shui"
CLICK HERE TO TAKE THE CLASS!
Fantastic tips and depth of information. This course provides a great deal of information about Feng Shui in general but then dives into manageable and applicable tips for a variety of career/office set up solutions. It has inspired me to make some shifts in my home office, ask questions about the direction my business is going, and view my decorations/belongings from a fresh lens. I highly recommend this course to anybody who is looking for tools to shift or re-energize their life path/career.
--Caitlin M.