Store
Feng Shui Fixers
Feng Shui Spirals
Feng Shui Books
Mindfulness Books
Feng Shui to the Rescue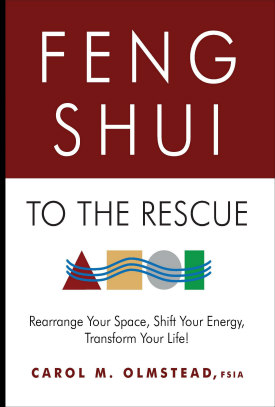 Feng Shui is the art and science of arranging your home and workplace in balance and harmony. Now, in
Feng Shui to the Rescue: Rearrange Your Space, Shift Your Energy, Transform Your Life!
, Feng Shui Master Practitioner
Carol Olmstead
shares her real-world secrets for using Feng Shui to rescue your life.
Carol answers more than
400 questions
from clients, students, and readers all over the world, covering most-asked topics like these:
The Big 3...
Love (finding it, losing it, finding it again)
Wealth (making it, keeping it)
Harmony (maintaining it, especially at holidays)
And more...
Clutter (tidying it up)
Careers and Business (finding jobs and clients)
Mirrors (placing or removing them)
And even more...
Bedrooms and Beds (encouraging sleep)
Real Estate (buying or selling a home)
To help you avoid problems in the first place, Carol adds
24 Fast 5 Tips
and
30 Success Stories
from her clients who made simple Feng Shui changes with big results.
Feng Shui works in surprising ways.
LEARN HOW TO MAKE THE PRACTICAL MAGIC OF FENG SHUI WORK FOR YOU!
The perfect gift for friends, family, colleagues - and for yourself.
Price:
$19.99+S&H
Reviews of Carol Olmstead's Book
Your book is such a treasure trove for me. I love how it's structured --well that makes sense!-- and I feel like I'm imbibing yummy vitamins when I learn new principles on every page, and am further rewarded by the quotations at the end of the sections. I just cannot imagine all the work that went into it as you teach readers, from scratch, these ancient and newly respected concepts and philosophies. What an accomplishment!
I just finished reading your new book. Congratulations, you included a lot of great and helpful information. You are doing great work to help people in creating a much more aligned and successful life.--KB

I just bought your book, and it's wonderful! "Rescue" is now my bedtime reading. You are a terrific writer. I'm so lucky to have met you.--RG

I am reading the new book and love the style. People will really remember what to do the way you constructed the book with questions and answers among the text. I bought 2 additional copies after reading the first 35 pages. Hopefully my daughter and friend will follow your written word.--KC