Store
Feng Shui Fixers
Feng Shui Books
365 Feng Shui Secrets: Daily Tips for Attracting Wealth, Harmony, and Love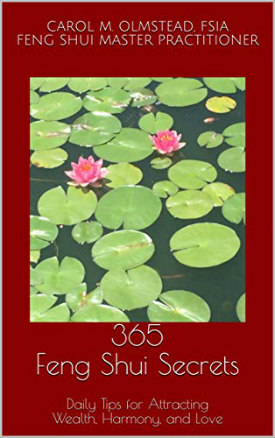 Want to earn more money? Yearning to rev up your love life? Looking to create family harmony? Need to control clutter before it controls you? Or do you just need a good night's sleep?
365 Feng Shui Secrets: Daily Tips for Attracting Wealth, Harmony, and Love
, the new ebook from Feng Shui Master Practitioner Carol M. Olmstead, can help you attract all of this and more. Carol has taught thousands of clients, students, and readers the simple secrets of Feng Shui, and now she will teach them to you through the tip-a-day calendar in this book.
For example, you will learn how to do the "Feng Shui Fling" at the beginning of the year (January 1), discover why you shouldn't keep shoes near your front door (March 16), find out how to get a good night's sleep (August 20), and read what gifts to give and avoid giving for the holidays (December 6). The tips cover all of the seasons, holidays, celebrations, adventures, and misadventures of your life.
Liberally sprinkled through this book are success stories from Carol's clients to illustrate how everyday people used these Feng Shui tips to improve their lives.
Start the calendar on any date and work through 12 months of daily advice. As you continue through a full year of the Feng Shui tips and techniques, you will be amazed by the results.
DISCOUNT PRICE: $5.99
Order Now!
Reviews of Carol Olmstead's Book
A Feng Shui Original
I used to be a Feng Shui consultant; I'm now retired. I read about this new book and thought it would be a good one to brush up my Feng Shui with. (I already have about 50 books on Feng Shui.) I was very pleased to find that this was not just a re-hash of all the other books. It is a really good synopsis of the important points in Feng Shui, in a style that is easy to understand and apply. The author as done us all a real service in writing this one.

Feng Shui For Real Life
The book is arranged in a very friendly manner. Just when you thought you knew it all, Carol comes in with fresh ideas and insights that will keep you going back to the book all year long! Fun and inspiring, you'll probably want to read this one more than once. Two thumbs up.

Quick and Easy
So excited when reading this book, that I started moving items around in my home immediately. Tried to learn Feng Shui several times before, but too complex. This book made it easy.