Home
>
Store
>
Feng Shui Books
>
Feng Shui Quick Guide for Home and Office: Secrets for Attracting Wealth, Harmony, and Love
Store
Feng Shui Fixers
Feng Shui Books
Feng Shui Quick Guide for Home and Office:
Secrets for Attracting Wealth, Harmony, and Love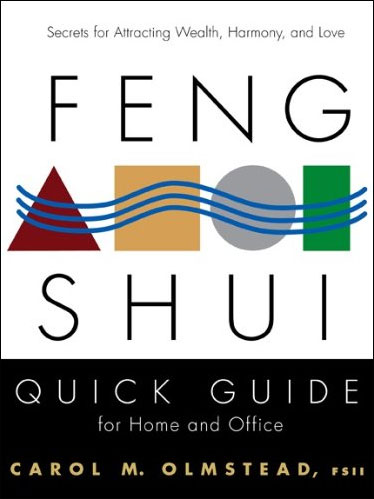 13 Years and Still Going Strong!
Own the award-winning Feng Shui book that is practical and easy to understand. The
Feng Shui Quick Guide for Home and Office
includes easy-to-follow basics plus tips and secrets to make the practical magic of Feng Shui work for you. Sprinkled among the tips are success stories from real people who followed them with big results. This book will help you learn how to attract wealth, achieve harmony, improve relationships, advance your career, and clear clutter. Highlights include a
month-by-month guide
to clearing your clutter and a
day-by-day calendar
of 366 fast fix Feng Shui tips. Also includes links to download
free
bonus articles.
The
Feng Shui Quick Guide For Home and Office
is the
perfect gift
for yourself, and for everyone on your list, from clients and colleagues, to family and friends - and a great way for real estate agents to say "thank you" to sellers and welcome buyers to their new home.
Winner "Best How-To Book"
Includes:
366 daily tips
21 success stories
12 monthly clutter-clearing strategies
List Price:
$15.95
SPECIAL SALE Price: $12.99+S&H
Shipping to the US only at this time.
CLICK HERE TO BUY.
Reviews of Carol Olmstead's Book
I must have at least 10-12 books on Feng Shui but this one has been the first to explain Feng Shui in easy-to-understand terms. I'll use it as a reference guide as I clear my space and do some long-needed renovations and updates.
~ C. Petrucelli, Interior Designer

Carol Olmstead has written an informative book where she shares the simple secrets of using Feng Shui that she has taught her students and clients over the years. Now, she is sharing those secrets for everyone to enjoy. A wonderful resource! ~ D. Holland, Landscape Designer

Feng Shui has finally made it into the mainstream with Carol Olmstead's new book. It gives a practical approach that I find useful in my daily life, and includes a calendar of 366 Feng Shui tips that are great fun to read and employ in your daily life. ~ J. Greenberg, Life Coach

I wish I had read this book years ago.
~ W. Epstein, Travel Agent

This book explains why day-to-day clutter, worn-out clothes, and dying plants can interfere with your ability to attract wealth and creativity, then gives a step-by-step approach to change things.
~ S. David, Health Consultant

The real life stories of the author's clients give me the incentive to move ahead with my own day-by-day changes. This book is a welcome addition to my library, one that will be well used.
~ A.S. Walker, Fiber Artist

The book explains the concepts of Feng Shui clearly and in plain English but without dumbing it down. It is completely accessible for someone who doesn't know a lot about Feng Shui.
~ Sharona S.

I bought 10 books to give to my clients at closing. I figure if I follow the advice in the book, I will certainly sell at least that many houses.
~ A. Valenza, Realtor