Urban Northeast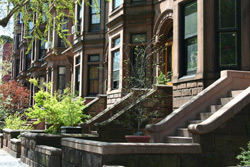 New York City/New Jersey
Do you live in the Northeast where center hall colonials, split levels, and 2-story foyer houses predominate? Here are some of the issues that can be addressed by Regional Feng Shui:
Do you have clutter in your basement or attic?
Energy cannot circulate around you, resulting in health and relationship problems.
Do you sleep in a bedroom above a garage?
You could have sleep problems since there is nothing under you for support, or health problems due to exhaust fumes.
Do you have a bathroom at the top of the stairs?
You could have wealth problems, since your abundance and prosperity flow directly to the "waste" area of your home.
Do you have a deck off the back of your home?
A deck causes your home to be missing an area of the Feng Shui bagua, or mapping chart, which can result in money or relationship problems.
Is your house located on a busy street, cul-de-sac, or T-junction?
Poison arrow chi may be causing accidents and negative events in your life.
Do you have a driveway next to your home or an alley in back?
The proximity to cars, traffic, and sometimes trash can reduce the peace, security, and harmony in your home.
Are you a city dweller living in a small apartment with limited closet storage space?
Where you keep clutter says a lot about what is missing in your life, and cluttered closets represent the inability to move forward.