Homes in the Southwest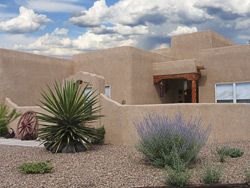 (Santa Fe/Albuquerque/Denver/Phoenix)
Do you live in Southwest where flat-roof pueblo style homes, exposed vigas and beams, open kiva fireplaces, and rambling floor plans predominate? Here are some of the issues that can be addressed by Regional Feng Shui:
Are there vigas or beams in your bedroom?
Heavy weight overhead can have a negative effect on your marriage.
Is there a ceiling fan directly over your head?
Drilling or corkscrew energy from a fan can harm your health.
Do you have open kiva fireplaces in your home?
You can lose energy in a room through an open fireplace.
Do you have an irregular-shaped lot?
A lot wider in the front can make holding on to money and possessions difficult.
Do you have cactus or thorny plants along the path to your home or near the front door?
Plants with sharp leaves near your front door may discourage guests and friendships.
Do you have dead trees on your property?
Dead trees represent stagnant energy that could be affecting your health.