Modern Coping Skills For Women Workshop
USING ART, PERSONAL ENERGY, AND FENG SHUI TO FIND INNER CALM IN A CHAOTIC WORLD
"Learning to distance yourself from negativity
is one of the greatest lessons
to achieve inner peace."
THE DATE:
June 30, 2018
9:15am - 3:00pm
WORKSHOP LEADERS:
Carol M. Olmstead, FSIA
Feng Shui Master Practitioner
and
Nancy Olson
Clinical Mental Health Counselor
LOOKING FOR CALM IN A CHAOTIC WORLD? THIS WORKSHOP IS FOR YOU!
THE SETTING: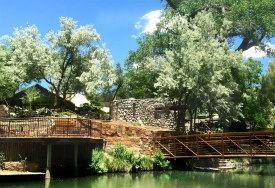 Sunrise Springs Wellness Resort
Santa Fe, New Mexico
This lush, 70-acre location is fed by natural springs. It will provide the ideal nurturing backdrop for the self-discovery component of this workshop. Gourmet lunch at the Blue Heron Restaurant and spa services are available options.
YOU WILL LEARN HOW TO:
Identify your own "energy vampires"
Distance yourself from negativity
Reinvigorate your coping skills
Use the power of friends and community
Experience art as healing
Create a Feng Shui home sanctuary
Enjoy the power of place as relaxation
Thrive despite troubled times
Develop a positive world view
Find guilt-free self-care strategies
Carol Olmstead and Nancy Olson have extensive experience and success working together to facilitate women's groups and workshops.
They first worked together as board members of Leadership Greater Washington, DC, an organization for women community leaders. They reconnected years later in Santa Fe, where they continue their work on behalf of women's groups. Both serve on the board of New Mexico Women in the Arts, a state committee of the National Museum of Women in the Arts in Washington, DC.
Carol is a Feng Shui Master Practitioner, author, and speaker who has taught thousands of clients, students, and readers the simple secrets of using practical Feng Shui to rearrange spaces, shift energy, and transform their lives. She specializes in applying Feng Shui principles to creating home sanctuary
Click here
to contact.
Nancy is a Licensed Psychotherapist who uses art and play for adults in her practice. She consults with hospital "art for healing" programs, and works with women's art organizations and leadership groups.
Click here to contact.







EARLY REGISTRATION DISCOUNT: $149
Regular Fee: $200
THIS WORKSHOP IS SOLD OUT, THANK YOU!
Please email to be placed on the wait list.