About
Feng Shui 360
Feng Shui basics
Feng Shui articles
testimonials and success stories
basics
children
clutter, organizing, clearing ceremonies
colors
eco lifestyle
gardens, plants, landscaping
general
love and romance
office and career
real estate
room-by-room
seasonal, holiday, travel
wealth
articles about and by Carol Olmstead
Feng Shui Fixes for the Top Ten Interior Design Mistakes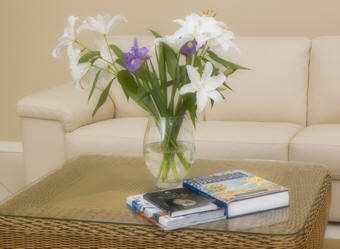 by Carol M. Olmstead, FSII
Certified Feng Shui Practitioner
Feng Shui For Real Life, LLC
Allison was in the middle of a major decorating meltdown when she called me to set up a Feng Shui consultation. She had purchased her first home in Santa Fe six months before. The first time she walked into the home she fell in love with everything about it: the view of the Sangre de Cristo mountains out the back windows, the meandering layout, the separate master bedroom wing. And unlike the previous places she had lived, she was now in a financial position to decorate with some flair.
Allison hung all her art and placed all of her collectibles. She ordered window treatments. She spent hours sorting through dozens of paint chips, experimenting with little of cans of paint samples, and hanging swatches of fabric all over the house. But for all her work, something was still not right.
"I know I have done something wrong," Allison said when she called me, "but short of repainting, redecorating, and buying everything new, I don't know what can help me feel more comfortable in the house."
I gave her a simple two-word answer: Feng Shui.
Feng Shui (pronounced "fung shway") is the art and science of arranging your interior surroundings in harmony and balance with the natural world around you. Our surroundings have a powerful effect on what we attract into our lives. When the energy around us—called chi in Feng Shui—is blocked or unbalanced, our relationships, prosperity, and family harmony can be profoundly affected. Feng Shui changes work like acupuncture for your home, unblocking the flow of energy and allowing you to truly live in your dreams in your dream home.
Based on an ancient Chinese practice, modern Feng Shui offers common sense and real-world guidance for placing furniture and objects and for using color. And that is exactly the guidance that Allison needed. When I came to look at her home, I found that she had fallen victim to some of the most common decorating mistakes. Fortunately, all she needed was a few low-cost Feng Shui "adjustments" to make the house feel like her home.
Design Mistake #1: Ignoring the Foyer
Feng Shui Fix: The first thing I noticed was the mess in Allison's foyer. It was littered with shoes, backpacks and tote bags, and a stained area rug. In Feng Shui, we consider the front door to be the "mouth of chi" where wealth and positive energy enter your home. Allison's foyer symbolized the opposite message, one of disregard for her wealth. I recommend she hang a piece of art in the foyer that showed an image that depicted flowing water, add a small fountain, and store her shoes and other items out of sight in the hall closet.
Design Mistake #2: Fake Plants and Dried Flowers
Feng Shui Fix: Allison's house was "overgrown" with plastic plants and dried flowers. In Feng Shui, these dust-catchers represent dead, stale energy and they have to go. I recommended she throw out everything that was plastic or dead and replace it with healthy, live plants or vases of fresh cut flowers. In areas where she did not have enough light to grow plants, she could use silk plants and flowers, since these are created out of fabric.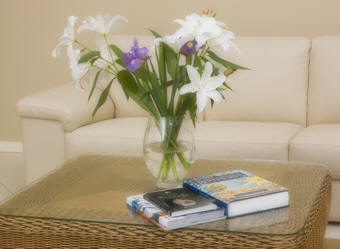 Photo by Ozpix
Design Mistake #3: Knickknack Overload
Feng Shui Fix: Whether you call them knickknacks, tschotkes, objet d'art, or just plain "stuff," Allison had too many. Southwestern decor was appropriate for her pueblo design home, but her tabletops were covered with collection of pueblo pots and Navajo baskets, her kitchen counters were cluttered with kachinas, and her shelves were stuffed with books on Southwest style. In Feng Shui, nothing new flows into your life until you make room for it, so I recommended Allison reduce her knickknack collection by 25 percent—either by donate items, selling them, or putting them in the trash—and then stand back and watch positive things flow into her life to fill the empty spaces.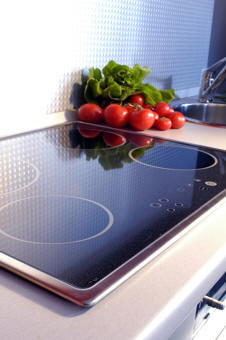 Photo by Vladimir Tatarevic
Design Mistake #4: Keeping Something You Hate
Feng Shui Fix: One of the biggest decorating mistakes is displaying something you do not like or no longer want, especially if it was a gift. Allison's walls were covered with Georgia O'Keefe art prints and Western art she had collected over the years. And while she appreciated the artists' talents, she did not actually like the images anymore, especially the O'Keefe skulls. In Feng Shui, items that you do not like attract negative energy and make you feel unsettled in your home. I recommended that Allison remove any artwork and objects that she did not like and replace them with new ones that fit her current tastes.
Design Mistake #5: Choosing the Wrong Color for Your Bedroom
Feng Shui Fix: Most people love color but just do not know where, or how, to use it. Allison was no exception. She picked a lot of sunny, hot colors, especially in the bedroom to go with her Southwestern style home. But Allison had not had a restful night's sleep since she moved into the house. I recommended painting her bedroom walls a natural "skin tone" color—that is, colors ranging from ivory to mahogany—to help her sleep better and to promote harmony in her relationships. Allison can still have hot desert colors in her home, but they belong in the family room and dining room where they encourage conversation.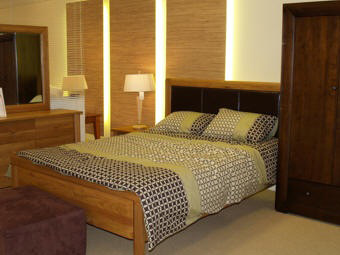 Photo by Agita Leimane
Design Mistake #6: Too Many Old Photos
Feng Shui Fix: Allison had plenty of family photos displayed throughout her home, but most of them were old and faded. It is always a great idea to display family photos to connect to your family history, but if you do not have current photos, it symbolizes living in the past. For example, if your children's school photos are still hanging in on the family room walls—but they graduated from college and moved out years ago—what does that say about their accomplishments today? I recommended that Allison add current family photos to her collection to symbolize growth of her family and harmony in her household.
Design Mistake #7: Unruly Cables
Feng Shui Fix: Allison was fortunate that she often telecommuted from her home office, which was a room off the foyer of the house. She had purchased an inexpensive but attractive desk and comfortable leather chair for the space, and the room sent the message of success—with one exception: she was surrounded by an unsightly and distracting mess of cables and wires. I recommended some easy solutions to corral wires and cables:
• Contain wires with cord covers, cord containers, and similar products.
• Use a staple gun to attach wires and cables to the back of furniture or along baseboards.
• Place the surge protector and all of its cables in a wicker basket or attractive container to camouflage it.
• Since her furniture was not a valuable antique, Allison could drill a hole to wires through the back of the desk and hide them.
Design Mistake #8: Art Hung in a Straight Line
Feng Shui Fix: Allison had hung several art pieces in the hallway off her foyer, but they were all the same shape and they were all hung at the same level. This creates a "poison arrow" that pulled the energy rapidly down the hallway and away from the bedrooms rooms. I recommended she hang art of varying sizes and shapes in the hallway, and locate it at different heights, similar to how art is hung in a gallery. This would give the illusion of slow, fluid movement down the hall and direct the good energy to every room.
Design Mistake #9: Furniture That Does Not Fit
Feng Shui Fix: Most of Allison's furniture had come from her previous home and her sofa and love seat were much too small for her current large living room. When you have the wrong size furniture in a room, you can never settle in and get comfortable. I recommended she move those pieces to her smaller family room. We measured the living room, drew a floor plan, and took pictures that Allison can take with her to the store when she makes future purchases. This will assure that her furniture choices are in proportion.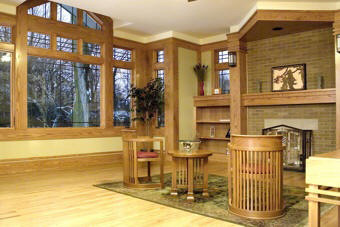 Photo by Kaleena Katt
Design Mistake #10: Too Many Pillows on Your Bed
Feng Shui Fix: Allison had covered her bed with beautiful pillows in an array of Southwestern colors. They were certainly attractive, but there were too many of them. I explained that in Feng Shui if your bed is covered with too many pillows, it symbolizes keeping a lover out of the space. I recommended she remove most of the pillows and keeping one pair—in a "passionate" color like red, orange or pink—to make room and encourage a relationship to enter her life.
After implementing most of these recommendations, Allison is finally happy and comfortable in her home. A few simple adjustments for some of the most common design mistakes made all the difference.
###
Carol M. Olmstead, FSII, is a consultant, author, and lecturer specializing in practical, real-world applications of Feng Shui for today's homes and offices. She provides residential and business/office consultations and conducts workshops and seminars for individuals, businesses, and home buyers/sellers. For more information and to subscribe to her free monthly e-newsletter, go to: www.FengShuiForRealLife.com