Consulting
Virtual Consultations
Feng Shui Bedroom Rescue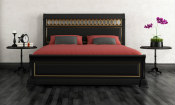 Do you want to attract a new love? Rev up the relationship you already have? Move forward after a divorce or breakup? Improve your self-esteem? If you answered yes to any of these questions, the best place to start making Feng Shui changes is in your bedroom. My long distance
Feng Shui Bedroom Consultation
package is for you. This
low-cost
service is designed to help you rearrange your bedroom, shift energy, and move forward in your relationship. The consultation works whether you are in a relationship, looking for a new love, or improving your self-esteem. The major focus of the consultation is on locating your bed, choosing color, and placing the art and decoration in the room.
The "Feng Shui Bedroom Consultation" includes:
Analysis of a floor plan or sketch of your bedroom.
Review of photos or a short video of the room.
30-minute phone consultation by phone, Zoom, or Facetime with Feng Shui Expert Carol Olmstead.
Personalized Feng Shui plan for the room.
Follow-up coaching check-in to make sure you stay on track.
After you register for the consultation, you will receive instructions for e-mailing the floor plan or room sketch, directions for creating a short video or photos of your room, and information about scheduling your session. During the conversation, Carol will give you numerous practical recommendations, including rearranging, reorganizing, and reusing what you already have, plus a plan to bring Feng Shui harmony to your bedroom. You can take notes or tape the session.
Email Carol for more information and current fee.