About
Feng Shui 360
Feng Shui basics
Feng Shui articles
testimonials and success stories
basics
children
clutter, organizing, clearing ceremonies
colors
eco lifestyle
gardens, plants, landscaping
general
love and romance
office and career
real estate
room-by-room
seasonal, holiday, travel
wealth
articles about and by Carol Olmstead
Go Feng Shui Green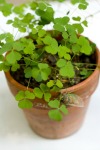 If you want to attract wealth, surround yourself with the color
green
. The "wearing of the green" is the traditional thing to do in March to celebrate St. Patrick's Day, but it's also a powerful Feng Shui tool because the color green stimulates creativity, growth, and expansion. That means green is a great color to wear when you're learning new skills, taking classes, or when you need to be energized. But, avoid wearing green when you're restless because it's such a stimulating color.
Green is the color of the
Wood Element
, one of the
Five Elements
in Feng Shui. In addition to wearing the color of the Wood Element you can surround yourself with objects in its shape (rectangular) and composition (wooden objects and plants) to activate this Element.
Try these simple ways to "go Feng Shui green" in any month and improve your overall well-being:
• If you feel
blocked
, place a bushy green plant on your desk to get your creative juices flowing.
• If you want to encourage
family harmony
, add green accents like pillows and throws to your family room.
• If you want to find a
new job
, place a beautiful wooden box on your desk and place a positive affirmation inside.
• If you need to feel
energized
on a cloudy day, wear a green tie or scarf, clothes made from cotton, or floral patterns.
• If your household is prone to
family arguments
at dinner, set the table with green napkins to promote harmony.
• If you are surrounded by a lot of
electronics
, place a plant within 3 feet of your equipment to balance any negative energy, especially in a home theater or home office.