carol's videos
media coverage
podcasts
news releases
"Living Feng Shui" magazine
bio and photo
bio and photo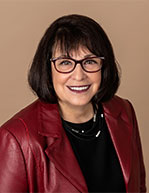 Carol M. Olmstead, FSIA
, is a nationally-recognized consultant, author, and speaker specializing in practical, real-world applications of Feng Shui for today's homes and offices. Through her company, Feng Shui For Real Life®, Carol provides residential and business/office consultations and conducts workshops and training nationwide for individuals, businesses, organizations, realtors, and home buyers/sellers.
Carol understands a wide variety of regional Feng Shui issues. She specializes in providing Feng Shui advice for homes, offices, and organizations, and travels throughout the US for Feng Shui home and business consultations, lectures, workshops, and keynote speeches.
Also known as The Feng Shui Maven, Carol practices a contemporary, updated version of Feng Shui that honors the essence of its 5,000-year-old Chinese heritage, but focuses on the practical applications for our culture today. She uses her natural intuitive sense and business savvy to bring easy-to-implement, real-world solutions to improve inauspicious situations and attract wealth, harmony, and love.
Carol first learned about Feng Shui when she was a marketing consultant. She re-arranged the furniture in her office and two weeks later signed a contract to consult for a week in Hawaii—that extended into a second week after she got there. Carol was convinced that Feng Shui made the difference! After extensive study with the Feng Shui Institute of America, she became a Certified Feng Shui Practitioner, qualified to use the designation FSIA. She has also achieved Red Ribbon Professional status from the International Feng Shui Guild.
Carol is frequently profiled and quoted in the media, including:
Cosmopolitan Magazine, The Washington Post, Chicago Tribune, Philadelphia Inquirer, Washingtonian Magazine, Albuquerque Tribune, Santa Fe New Mexican, Santa Fe Reporter, Journal Newspapers, The Hill Newspaper, Crystal City Magazine, Bethesda Magazine, Baltimore Magazine, Hagerstown Magazine, The Scientist Magazine, New At Home Magazine, Prevention Books and Prevention.com, Telecommuting for Dummies
, and home decorating and remodeling sites and social media. She is a frequent guest on broadcast and Internet radio.
In addition to providing home and office consultations, Carol has presented to such diverse groups as Discovery Communications, Booz Allen Hamilton, Marriott, Leadership Greater Washington, Arlington Arts Center, Mental Health Association, Women in Public Relations, Greater Washington Academy of Women Dentists, Association of American Medical Colleges, Georgetown University, and the U.S. Mint. Carol has been a featured presenter at Santa Fe Design Week. She teaches Feng Shui classes at home decorating and garden stores including IKEA, The Great Indoors, and The Tropic of Capricorn. Carol is author of
The Feng Shui Quick Guide For Home and Office: Secrets for Attracting Wealth, Harmony, and Love.