Rearranging spaces, shifting energy, transforming lives.
Do you feel stuck? Do you wish you could open the door to more wealth, harmony, love? At Feng Shui For Real Life, Master Practitioner
Carol Olmstead
will show you how a few simple Feng Shui adjustments can shift the energy around you and help you attract what you are seeking in your personal and professional life.
Feng Shui (pronounced "fung shway") is a design system for arranging your surroundings in harmony and balance with the natural world around you. Your surroundings have a powerful effect on what you attract into your life. So many of us clutter our homes, offices, and workplaces with things that symbolically represent the emotional clutter we feel inside. When the energy around you is blocked, your prosperity, relationships, health, and well-being can be affected. When the energy is balanced, good things naturally flow into your life.
Carol is a sought-after consultant, dynamic speaker, and critically acclaimed author. In her first book, the award-winning
Feng Shui Quick Guide For Home and Office
, Carol demystifies this 5,000-year-old design tradition and shows how to unblock energy and transform your life. In her new book,
Feng Shui to the Rescue: Rearrange Your Space, Shift Your Energy, Transform Your Life!
, she answers more than 400 questions, plus shares tips and success stories from her clients. Her ebook,
365 Feng Shui Secrets
, includes a tip for every day of the year. In this rapidly changing world, your surroundings are the one thing you can control, and Carol will show you how.
Attract wealth, harmony, love, and much more.
Carol works with clients
on-site
in person and
long distance
by phone, FaceTime, and Skype. She specializes in practical, real-world Feng Shui solutions to transform your space and help you:
• Increase Wealth • Attract Love
• Enhance Relationships • Improve Health • Reduce Stress
• Ease Conflict • Promote Family Harmony • Unblock Creativity
• Conquer Clutter • Find a Better Job • Attract Business
• Buy, Sell, Build, Remodel a Home
Read the current issue of Carol's newsletter.
The current of the
Feng Shui To The Rescue
newsletter features tips for reducing stress in difficult times, where you have clutter and what that means, best and worst places for a fountain, a special opportunity to own my new book
Feng Shui to the Rescue
, and more.
Read the current newsletter.
Take a workshop with Carol.
BRING THIS WORKSHOP TO YOUR AREA!
Modern Coping Skills For Women
Using art, personal energy, and Feng Shui to find inner calm in a chaotic world
Details.
Read Carol's award-winning books.
In
Feng Shui to the Rescue: Rearrange Your Space, Shift Your Energy, Transform Your Life!
, Feng Shui Master Practitioner
Carol Olmstead
shares her real-world secrets for using Feng Shui to rescue your life. Carol answers more than
400 questions
from clients, students, and readers all over the world, covering these most-asked topics and more: Love, Wealth, Harmony, Clutter, Careers and Business, Mirrors, Bedrooms and Beds, Real Estate. Carol includes 30
Success Stories
from her clients who made simple Feng Shui changes with big results, and 24 sets of tips called
Fast 5
to help you avoid problems in the first place.
Feng Shui to the Rescue: Rearrange Your Space, Shift Your Energy, Transform Your Life!
is featured on the International Feng Shui Guild website. It's the perfect gift for everyone on your list (clients, colleagues, family, friends), and a great way for real estate agents to say thank you to sellers and welcome buyers to their new home.
CLICK HERE TO ORDER TODAY!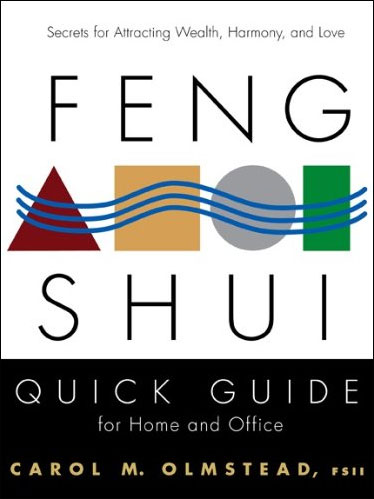 Finally, a practical and easy to understand Feng Shui book! The award-winning
Feng Shui Quick Guide for Home and Office
includes easy-to-follow basics plus secrets to make the practical magic of Feng Shui work for you. Includes success stories from real people who followed these tips with big results. This book will help you attract wealth, achieve harmony, improve relationships, advance your career, and clear clutter.
Includes:
Tip-a-Day Calendar
Real Life Success Stories
Monthly Guide to Clutter-Clearing
Click here to view the Table of Contents.